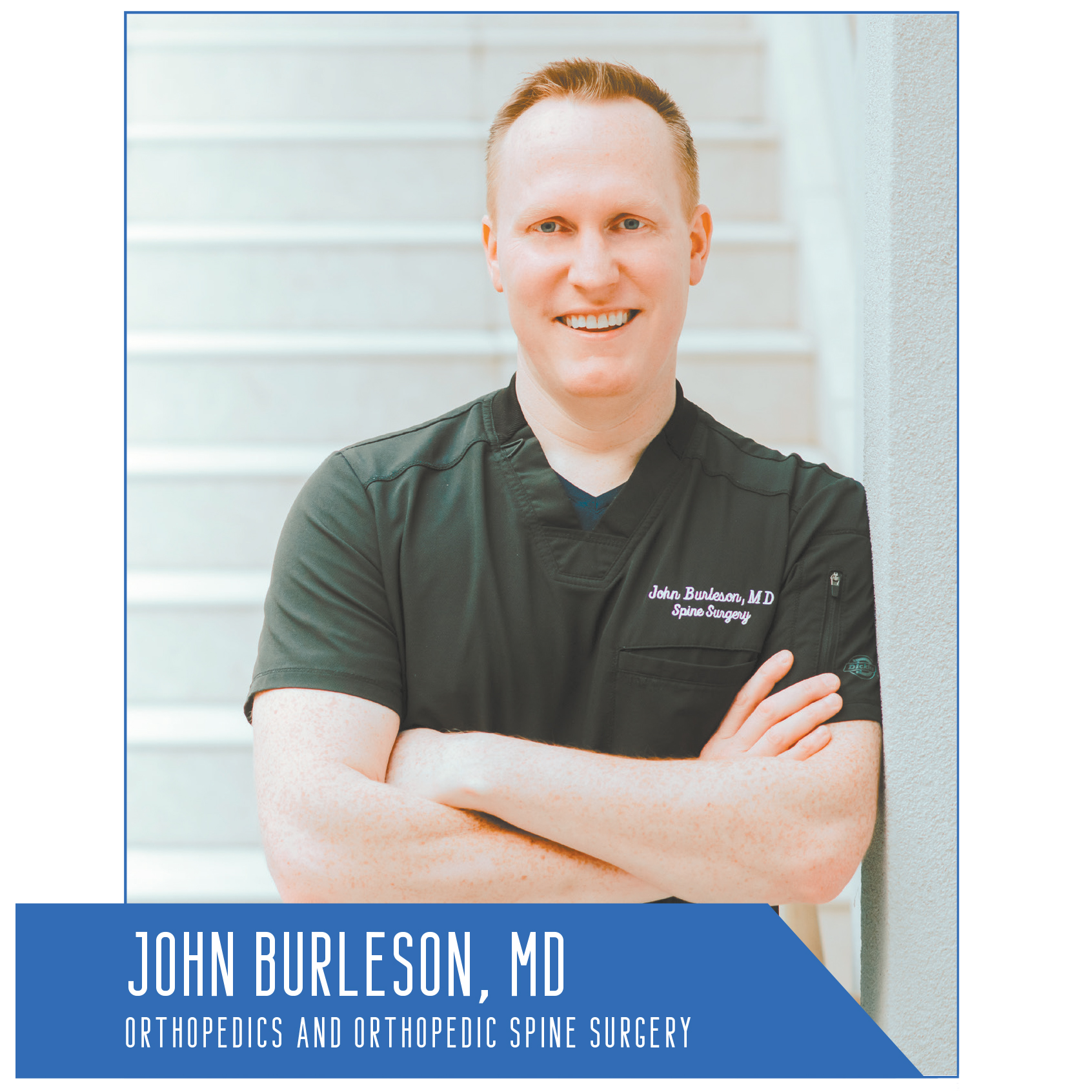 Hughston Clinic Orthopaedics Spine surgeon, John R. Burleson, MD is featured as a Physician Profile in this month's Medical Professionals Magazine. The magazine and web based articles highlight both the professional and personal lives of these men and women, in a forum where they can interact, share stories and learn from one another, across many different medical disciplines.
"Motion is lotion," Dr. John Burleson exclaimed. "If you can stay active it will serve you well. Although I perform spine surgery for patients who need it, most of my patients don't so I try to keep them feeling good without an operation."

With an office in Smyrna, Tennessee, Burleson is affiliated with several Tri-Star hospitals in the area, including StoneCrest. His focus is on orthopedic spinal surgery, spinal care, fractures and general orthopedics which focuses on care of the musculoskeletal system.

"COVID-19 has affected all of us," said Dr. Burleson. "It has taught me to be creative in how we serve our patients. As a result, I have performed more telemedicine visits in the last year than I had the rest of my medical career. But, I have seen how much my patients enjoy it, and I have turned it into a permanent part of my practice so patients can stay home and still meet with me."

Originally from suburban Dallas, Texas, Dr. Burleson went to medical school at University of Texas – Houston at one of the busiest trauma centers in the United States. Then, he did the rest of his medical training in Massachusetts and at Texas Back Institute. His undergraduate work was done at Dallas Baptist University where he received a Bachelor of Science in Biology, with a minor in Chemistry.

"I am an orthopedic surgeon," he explained, "but I have sub-specialized in orthopedic spine surgery. I take care of everything in the neck and back, and I also treat arm and leg pain related to the spine. I have a special interest in new technology, and in addition to helping device companies develop new implants, I wrote the first book chapter in the world on 3D printing use in spine surgery."

As the son of an engineer, Dr. Burleson was always interested in taking just about anything apart and putting it back together again. This led to building and fixing things. Combining this interest with one in science led him to medical school. Orthopedics was a natural fit for him as it allows him to put broken bones back together again and fix them.

Dr. Burleson grew up surrounded by hard-working people who enjoyed having a little land and raising their kids to do the right thing. "I wanted to make sure that wherever my family and I put down our roots, we would be surrounded by the same kind of strong-willed people. We are very happy to have found that here in the Rutherford community."
Last edited on February 1, 2021
Popular Stories
Sorry. No data so far.